Planet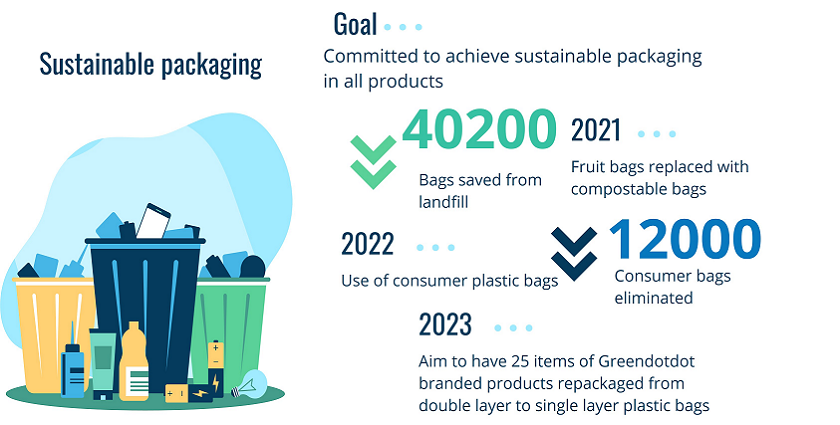 Goal: Greendotdot is committed to achieving sustainable packaging in all products.
CY: 2023
2021 metric: Fruit bags have been replaced with compostable bags, estimated 40200 plastic bags saved from dumping into landfill between June 2021 – June 2022
2022 metric: Used of consumer plastic bags decreased from 51451 to 39294, estimated around 12000 plastic bags saved from dumping into landfill within fiscal year of 2022
2023 goals: aiming to have 25 items of Greendotdot branded products repackaged from double layer to single layer plastic bag.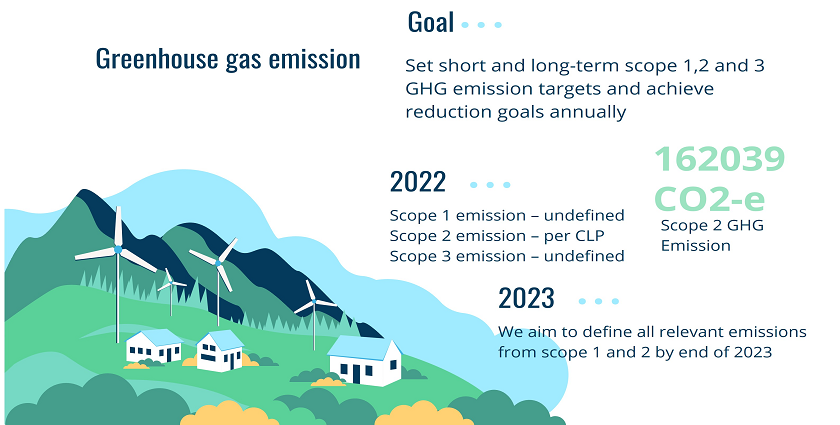 For scope 2 emissions, we are able to estimate retail shops under CLP (KLN and NT) as there is a more complete dataset from CLP. We will update retail shops on the Hong Kong Island side once we have more data. Since this is our first year of carbon accounting, we are looking at the baseline of the emission of our company for this year, no goals can be set as we do not have the complete set of data from billing, and we are still defining the emissions from different scopes. More details will come to light in the second quarter. Goal: Greendotdot is committed to set short and long-term company-wide scope 1,2 and 3 greenhouse gas (GHG) emission targets and achieve reduction goals each year.
2021 metric: Not applicable
Scope 1: Energy direct emissions - Unclear as we still need to define what is considered scope 1 within GDD – So far can only determine refrigerators and air-con at shop as Scope 1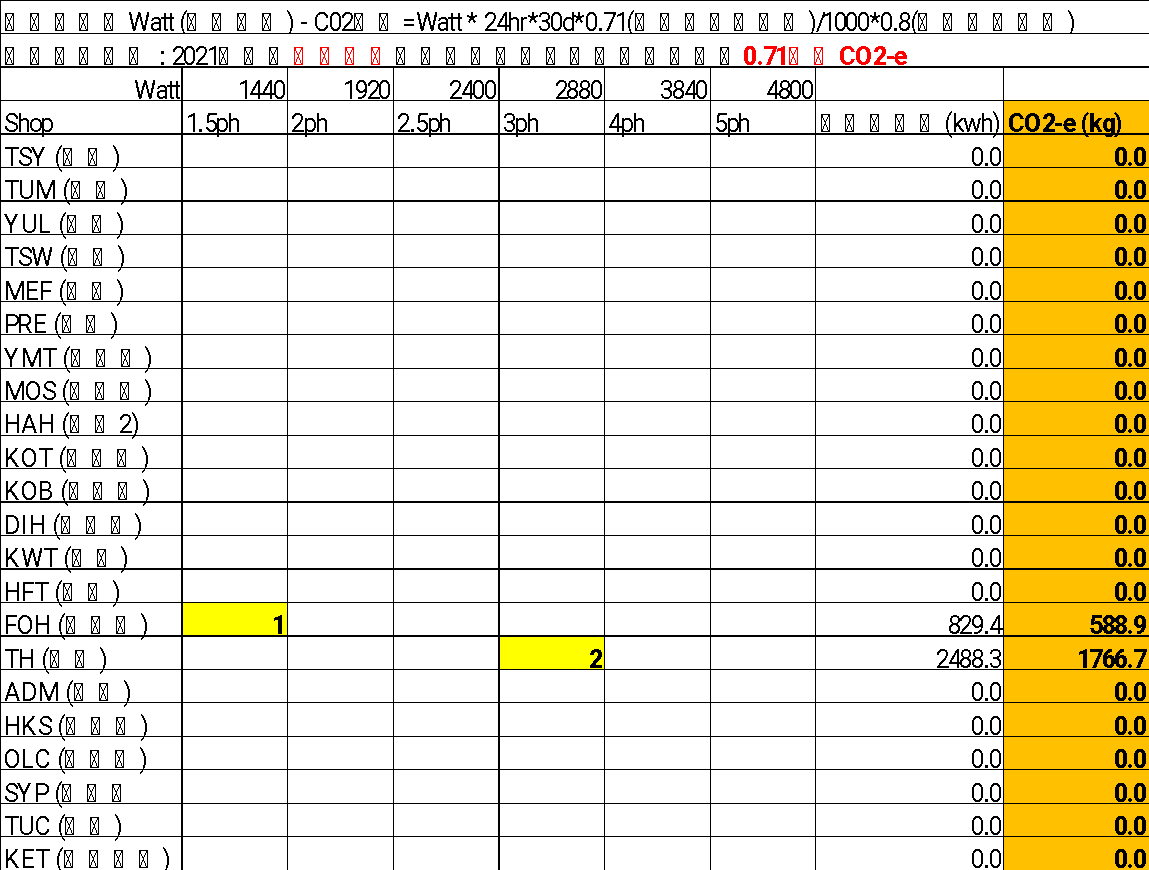 Scope 2: Energy Indirect emissions – as per CLP 162039 CO2-e
Scope 3: Undefined
Summary and 2023 goals: Per CLP, the emission factor is 0.37 as of 2021. Emission = Quantity x emission factor of CLP, HK Electric requires a different calculation. We will aim to define all relevant emissions from different scopes by the end of 2023. Environmentally sustainable
sourcing
In progress Supply chain management on
environmental risks
In progress Product packaging and
distribution (e-Commerce)
At this point in time we are able to retrieve data from the amount of orders and type of packaging use during logistic distribution, and the general 18 districts distribution of the orders. However, more time is needed to calculate the scope 3 emission from distribution and landfill waste from packaging.
Goal: Greendotdot is committed to minimize product packaging and logistic distribution related emissions and waste.
Usage of carton box: 27x28x29cm size for all packing products
Scope 3 emission: In progress
Goal for 2023: To be able to precisely calculate landfill waste and emissions from e-Commerce. Operation energy consumption
In progress Food and packaging waste
management
In progress Hardware infrastructure
management (e-Commerce)
As Greendotdot out-sources e-Commerce service from a third party, there is no direct affects on Integration of environmental considerations and data center needs.
Brief description on Greendotdot e-Commerce infrastructure and management:
1. For customer login credentials:Magento uses its own strategy for password hashing, based on different native PHP hashing algorithms. We have applied algorithms on SHA256.
2. Login attempts failure:Magento will lock the user account if the account reaches 10 times failure login.
3. Encryption for TransmissionWe have HTTPS connection between web server and client, the data transmission has been encrypted.